CEO Message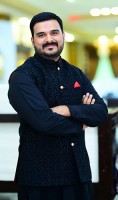 Ahmed Abeer
(CEO)
AG Enterprises is recognized as the trend setter in this sector due to its reliability, rational performance and confidence between its precious clients.
It is with great pride that I introduce you to AG Enterprises, one of the region's largest real estate companies with a portfolio as diverse as our customers. Property Insight is a leader in the field and develops, creates and manages residential and commercial communities and destinations in Islamabad.
It is our mission to become the region's most reliable real estate company and we intend to reach our goal by delivering sustainable communities that cater to the new market demand for quality and affordability. We are now poised to profoundly impact the real estate landscape in the Pakistan through our extensive and expanding portfolio that brings communities together.
We hope that you will find AG Enterprises the right partner for every real estate service and product you need, and as always, we are ready to provide you with only the best that Pakistan has to offer.